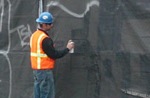 I received an e-mail the other day from someone—I'll call him Dave—who is struggling with the idea of using social media sites like Facebook for their church community. He was conflicted because on one hand he sees Facebook as a great way to communicate and dialogue with people who are a part of the church. On the other hand, he sees some organizations on Facebook with profanity on their "walls" and other user-generated clutter that seems to distort the intent of the group.
Dave's assumption is that the church is accountable for what ends up on their "walls." He even thought about limiting "friends" to members. "But when you have 2,000 members, this really doesn't help so much. Get 2,000 people involved and you've got your share of chowderheads and gadflies who will post anything."
Dave feels he's between a rock and a hard place. "If you limit the social interactivity, then you are left with one dimensional communication and the question 'What's the point?'"
I understand Dave's dilemma. I like to think of Facebook as the mall where you go meet people, not the church building where they come meet you. You don't control what stores are in the mall or what music is playing or how people are dressed. But you can guide the conversation. You just might need to talk a little louder over all the noise, or move the conversation to another environment altogether.
People are messy. And because of this, we should be discipling people to better belief and behavior, not creating or controlling environments. How this translates online might look like digital discipleship, not digital construction. Let's build people, not places. Just like we can't control everything offline (graffiti, filth, vandalism, etc.), we can't control it online either.
But we shouldn't ignore malls or Facebook just because they're messy.