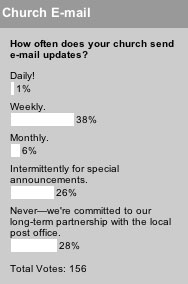 Last week we asked how often your church sends e-mail updates, and the majority (38%) send weekly e-mails.
But a lot of churches aren't taking advantage of e-mail: 28% don't even use e-mail and 26% only send intermittent announcements, for a total of 54% that don't use e-mail regularly.
6% send e-mails monthly and only 1% daily, making weekly e-mails the most common practice. Which makes sense: You've got a service every weekend to announce.
E-mail isn't for everyone and with rising spam the effectiveness of e-mail is taking a hit. But it's one more avenue to communicate with your congregation.
This week we ask about the place of puns in church marketing.