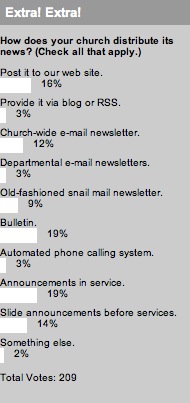 There's a thousand ways to distribute news–blogs, mailers, e-mails, Twitter, Bat Symbols, etc. We wanted to know what works for your church and how you distribute your news. Here's what you had to say:
The most popular way to distribute news was through announcements or bulletins. Apparently 19% of you use a weekly bulletin and in-service announcements to distribute news. About 127% of churches I've been to use a bulletin and announcements, so I think we might have had some error in our statistical methodology. Or maybe just all churches I don't attend tend not to use bulletins and announcements–what do you think?
16% of you post news to your web site. This is good, people visit your web site. If you didn't hear, we had a snow storm in the south here recently (about 3/4″ of accumulation), and it was refreshing to see churches announce their closing online. It's far better than the endless game of watching the scrolling thing on the news channels.
Another 14% of you depend on your church's pre-game show to announce events. It gets your message across, you can do these pre-service slides attractively and it encourages folks to show up early. Next up are the 12% of you who go for the church-wide e-mail newsletter. Some trouble exists here–folks disable receiving HTML email, it gets caught as spam, it's not designed well, etc. Have you seen success with announcing via e-mail?
9% of you still send out a snail-mail newsletter. It gives a fun, antique feel to church. Then come the bottom dwellers: 3% of you use a blog or RSS (come on readers, we can get this number higher), 3% of you use e-mails from individual departments and 3% go with some sort of automated calling system.
Bringing up the rear are the 2% of you who go with "Something else." What on earth could this be? Twitter? Town crier? Door-to-door? Let us know down below.
This week, we need to know…you walk into church and are handed a bulletin. What do you do with it?