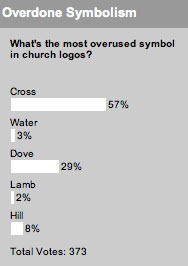 Last week we asked about overdone symbolism in church logos. The cross won by an overwhelming majority, taking 57% of the vote. The dove came in a distant second with 29%.
What other overdone symbols are we forgetting? Fish, fire and the ever-popular swoosh come to mind, though it does seem like our poll is spot on. The cross is the standard symbol for church logos. Seems a little too easy, doesn't it?
This week we ask what kind of bulletin your church uses. If you're especially interested in the bulletin question, you can check out some discussions in the Church Marketing Lab, including thoughts on bulletins, color bulletins and 11×17 bulletins.