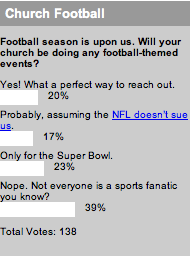 Only one day until college football kicks off. A week after that comes the NFL. Last week, we asked if your church would use the inherent marketing power of pigskin. Here's what you said:
Surprisingly, the majority of you declined. 39% of you, to be exact, will be missing out creatively pursuing other avenues. It's something to appreciate that you guys are reaching beyond the football crowd.
23% of you will only be footballing for the biggest game of them all. I don't think it's tough to know if you put up a big screen late in January, approximately 250 million people will come.
20% of you are fired up about kicking off your football events. Just make sure you send me an invitation. What sort of marketing ideas are you guys using? Church fantasy football? Just weekend get-togethers?
17% of you probably will, assuming the NFL doesn't sue you. Just make sure to research the broadcast rights if you plan to show games, and you should be fine.
This week, let us know what areas you think the local church needs an extreme church makeover.