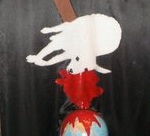 Here's another one for the "And We Wonder Why We're Hated" conversation…
Matthew Paul Turner, the recovering churched boy, wrote a post earlier this week about an imaginary conversation between mother and child as they both gaze upon this picture.
"Mommy, what is that?"

"Oh, Sweetie, that's a picture of how much God loves the world! He loved the world so much that he took a cross made of 4X4s and penetrated the vital organs of a sheep-looking creature just for you, Baby. Doesn't seeing it make you feel loved and hope-filled?"

"Mommy, is that the same sheep that Jesus left the other 99 to go find?"

"No, Baby, I'm sure that's a different sheep."
If we're going to continue making banners like this and communicating rich theology and deep doctrine through mediums that contort the meaningful message of the Gospel, we're going to keep having books written like this.
What say you?