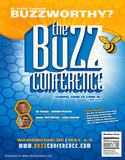 Our very own Brad Abare will be speaking at the upcoming Buzz Conference, an event where church leaders can share ideas and best practices. It's being hosted by the National Community Church (the Theater Church) in Washington, D.C., May 4-5.
The conference is centered around three core convictions:
The church ought to be the most creative place on the planet.
The greatest message deserves the greatest marketing.
The church is called to compete in the middle of the marketplace.
In addition to Brad, you can also hear from Fellowship Church Senior Pastor Ed Young and NCC Lead Pastor Mark Batterson. Register by March 15 to save $40, or if you're a church planter or come from a small church you can get a church planter discount.