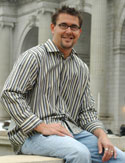 Mark Batterson is the lead pastor of Washington D.C.'s National Community Church, a unique church that meets in two movie theaters in the nation's capital. Batterson is also behind the Buzz Conference, a church conference being held in Washington, D.C., May 4-5 that also features our very own Brad Abare.
Batterson has generously offered a Buzz Conference discount to Church Marketing Sucks readers. The regular registration is $139, but CMS readers can get in for only $99. E-mail Buzz Coordinator Juliet Main for the discount.
We talked with Batterson over e-mail to get his thoughts on Buzz.
So I'm a busy person—why should I come to the Buzz Conference?
Mark Batterson: The busier you are the more you need to come! I have a formula I came up with a few years ago: Change of Pace + Change of Place = Change of Perspective. A good conference helps fuel new ideas. A two-day investment can generate a year of creative ideas. Plus all of us need a few days out of our milieu. It keeps us from becoming a closed-system.

If I'm trying to manufacture buzz for my church, isn't that kind of fake?
Batterson: I don't think Buzz is man-u-factured. It's a God thing. But it certainly requires some effort. We have a core value around National Community Church: pray like it depends on God and work like it depends on you. I think it's both/and. Biblically speaking, buzz is a non-negotiable. I like to think of Luke 14:23 as The Buzz Commission. Jesus commanded us with these words: "Compel them to come in so that my house may be full." Buzz is a stewardship issue. We've got to be strategic in the way we package our sermon series and promote small groups and plan outreach events. The church is called to be compelling.
What kind of buzz are you getting for the conference? How many people are coming?

Batterson: We're hosting the conference at one of our locations—the movie theaters at Union Station so our capacity is the capacity of the theater which is about 250-300 attendees.
What prompted you to put on the Buzz Conference?
Batterson: Buzz is motivated by three core convictions that we've tried to put into practice:
The church ought to be the most creative place on the planet.
The greatest message deserves the greatest marketing.
The church is called to compete in the middle of the marketplace.
We're still evolving and morphing as a church, but we really feel called to shareware some of the things we're doing and learning at this stage in our development.
How do you respond to people who say that marketing is a dirty word and the church shouldn't be doing it?
Batterson: Anybody who thinks marketing is a dirty word misunderstands the word marketing. The greatest message deserves the greatest marketing. Or to put it in other terms, the greatest gift (salvation) deserves to be wrapped in the greatest packaging! That is why we put a ton of energy and resources into internal and external marketing at NCC. We put about 1% of our budget into our Annual Ministry Report that doubles as a "welcome packet." We'll give out free copies at the Buzz Conference. We'll also include a "Small Group Guide" in the Buzz Box we give to attendees. The Small Group Guide is used to promote our small groups each semester. The guide looks like a professionally produced magazine. Why do we work so hard marketing our small groups? Because that is where discipleship happens at NCC.
We need to quit quibbling about semantics and get serious about sharing the good news! Pulpit announcements and clip art don't cut it.
What's your vision for communicating the message of the National Community Church?
Batterson: We have a somewhat unique vision. We want to meet in movie theaters at metro stops throughout the Washington, D.C., area. We currently have two theater locations. We also own and operate the largest coffeehouse in Washington, D.C. And we host events at the largest nightclub in D.C. Doing church in the middle of the marketplace is part of our spiritual DNA.

Our demograhpics at NCC are somewhat unique as well. We're comprised of 73% single twenty-somethings. And we're 75% unchurched and dechurched. We really feel called to reach emerging generations in innovative ways. We have a core value: everything is an experiment. We love trying to do church in new ways. If the Kingdom of God had departments, we'd feel called to work in R & D (Research & Development).
What communications-related idea are you most excited about right now?
Batterson: I'm a blog and podcast fanatic! Every month we have tens of thousands of listeners tune into our theaterchurch.com podcast and we just launched a video podcast. I'm also pretty passionate about blogging. The church needs to be redeeming technology and using it to serve God's purposes! There are ways of doing e-vangelism and digital discipleship that we never dreamed of a decade ago. I just think there are ways of doing church that no one has thought of yet! And if we are going to reach emerging generations it is going to require some holy creativity and sanctified imagination.
We're also experimenting with new genres of preaching like short films and on location videos. I love the challenge of trying to say old things in new ways.
What kinds of marketing or communications has your church had success with?
Batterson: Our web site is our front door. A lot of people find us online. We've also had success with everything from servant evangelism outreaches to direct mail. One unique thing we've tried to do is put together a "series trailer" for each sermon series we do and put it online. It is one way we play off the "Now Meeting at a Theater Near Year" motto we have. And it gives people a sneak preview of what we talk about at NCC. We also try to utilize word-of-mouth via series evites.
What are the biggest mistakes churches make when it comes to marketing?
Batterson: All of us have seen cheesy gimmicks. I get turned off by watered-down or dumbed-down marketing efforts. I think emerging generations are looking for high-octane spirituality. They want and need someone to challenge them to take up their cross and follow Christ.
I also think we've got to quit cloning each other! We have a simple buzz equation that we'll talk about at the conference: Authenticity + Creativity = Buzz. Marketing efforts must be true to who we are. If they are disingenuous in any way, they ring hollow!
Who are your communications heroes and why?
Batterson: In terms of authors, I love Seth Godin, Erwin McManus and John Ortberg. In terms of podcasts, I subscribe to Craig Groeschel and Ed Young. In terms of preachers, I love Andy Stanley and Robb Bell.
How important is buzz or marketing to the growth of a church?
Batterson: At the end of the day, a church is either boring or buzzing.
No one was better at buzz than Jesus. Christianity is the quintessential word-of-mouth revolution. Creating a buzz culture is the key to spiritual and numeric growth.