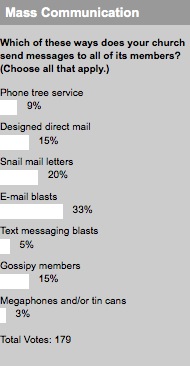 There are a thousand ways to communicate these days. Back when my parents' grandparents' grandparents' parents' were kids, there was only one: hitch up a wagon, get your machete and clear a trail. But in a world where there are more social networks than people and more media than eyeballs, how do you get your news across?
A third of you are using e-mail blasts. Probably through some sort of marketing platform, you send out an e-mail and dance a little jig if you get your click-through above .16%. And another one in five of you are using snail mail letters because you don't know HTML, your members don't have the Internet or you're too embarrassed your e-mail unsubscribe rate will be 100%.
15% of you take snail mail to the next level, designing direct mail to send to your local mailboxes. And tied with that group are the 15% of you who are using gossipy members to spread news. (And the other 85% falsely imply that they don't have gossipy members.)
9% still use a phone tree service to send out bulk calls, and beyond that, we're scraping the bottom of the barrel. 5% are using text messaging blasts (Only 5%!?), and 3% of you are using tin cans and megaphones. Kudos go to you; in the comments, let us know your system for making that work.
Kem Meyer recently discussed this very topic on her blog. Check out more of how Granger Community Church is now delivering their news.
This week, head to the non-RSS version of the site to vote: How are rising costs and the stale economy affecting your church?