A graphic designer is given the job of marketing and promoting a church's women's conference. Offer your input and ideas for this week's peer review.
Samples: Posters and a brochure for an upcoming women's conference.
Brochure:


Poster 2: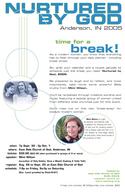 Notes:
East Side Church of God
Anderson, Ind.
Created by Jodi Hull
East Side Church of God is hosting a Women's Conference called "Nurtured by God" on Friday night September 30 and Saturday October 1 from 9 a.m. to 3 p.m. The church averages 900-1000 weekend attendance. Events like this promoted only within the church usually bring in 75 people. They also hope to bring in 75 more people from the community.
Registration opens this Sunday, August 28. They hope to have a PowerPoint or DVD promo to use in the Sunday service, though they're lacking a creative angle for it (our suggestions might be a bit late, but if you have something simple and good, it might help).
They've also planned several other ways to promote the conference:
Holding an informational meeting with representatives from other churches where they'll pass out promotional materials and hope to get other churches on board.
The conference speaker will be interviewed on a local Christian radio station in early September.
The local library will display a poster announcing the author's visit and have copies of her books available.
Questions:
What do you think of the overall marketing strategy?
How do the brochure and posters work visually?
What about the text?
What do you like about this campaign?
What would you improve?
What's a creative angle for the PowerPoint/DVD promo?
What can you apply to your church?