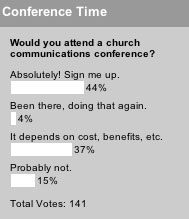 Last week we asked if you'd attend a church communications conference and the results are in: 44% said 'sign me up.' Another 4% have already been to a church communications conference and want to go back.
On the not-so-eager end, 37% said it depends on practical considerations like costs and benefits. 15% said they probably wouldn't attend.
This is good news for church conferences, including this weekend's National Outreach Convention, January's Creative Church Conference, the assorted Willow Creek conferences, and next year's MinistryCOM and Innovative Church Conference. I'm sure we're missing a few, and not all of these are specifically about communications. But the bottomline is more and more is available to help church communicators do their job so more people can come to Jesus. And that's cool.
This week's poll asks how you heard about Church Marketing Sucks. I'm always amazed at who's talking about us and where they heard about us. So thanks for coming, thanks for coming back, and thanks for telling others.