These are a few random samples from Image Ministries and their various marketing efforts, mainly because I couldn't pick just one. If you'd like your stuff to get the peer review treatment, check the details and submit your stuff.
Samples: Various marketing samples including direct mail, banners and sermon series promotion.
Banner:


Postcard:


Sermon series poster: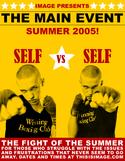 Notes:
Image Ministries
Alexandria, Va.
Created by Robert Murphy
Image Ministries is a small church ministry growing out of a larger church, Calvary Road Baptist Church. It started as a singles ministry, then a young adult ministry, and now has kids and families. They draw around 150 each week. This is a small sample of what Robert sent, just to give you an idea of the different things they're doing.
The banner features one of the church's primary visual images and is used for outdoor festivals, community wide events and anytime they need a large vinyl banner. The concept of the gummy bear postcard is to grab people's attention and confront the uncomfortable feelings often associated with visiting a church. They haven't decided if they should use this, but if they do it would serve as a first contact mailer or developed into a poster for use in local coffee shops. The sermon series poster is an 8.5″ x 11″ poster promoting their summer series, "Self vs. Self." This piece tried to emulate the old boxer posters of the 1930s-50s.
Questions:
What's working with the design?
Of the three concepts which engages you the most?
Is the writing working?
What could be improved?
These samples have minimal contact info (usually just the web site). Is that a good idea?
What ideas could you steal for your church