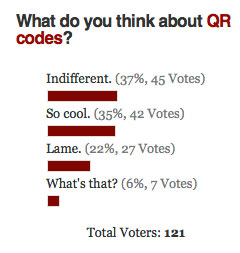 Last month we learned about QR codes and asked for your thoughts. Despite being the latest and greatest tech, a majority could care less.
A combined 59% were either indifferent (37%) or dubbed QR codes 'lame' (22%). Another 6% were clueless.
Only 35% declared QR codes 'so cool,' which is a sizable number of early adopters (to put a positive spin on it).
If your church has had experience with QR codes, share your story in the comments.