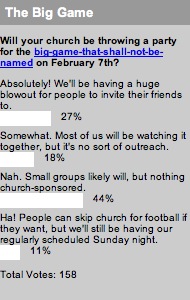 The most important game of the year played with an oblong air-pocket covered in leather, which airs around the beginning of February, is no stranger to us. We've covered it time and time again. And again. Just looking at our archives, you can tell we think this is something that matters. It's a yearly playground for the church to learn the hard lessons of copyright law, advertising and community. So we wanted to know if your church was planning to host its own event. Here's what you had to say:
44% of you weren't doing a darn thing for the game. You figured small groups would likely throw something together, but corporately, you had no plans to support it. And that's all right.
27% of you took the opposite approach and threw a big party. You had people invite their friends, made pigs in a blanket and, probably, talked through all the commercials (Even though you swore you wouldn't.)
And another 18% of you were using the game as an opportunity to hang out, but not necessarily outreach. You didn't want to make a festival out of it, but you wanted to have fun and watch the game.
And a last, humble, 11% of you just went on with life-as-scheduled. Plus, of course, plotting how you'd drop condescending hints to people who skipped church.
However you spent your big game Sunday, we hope you took the opportunity to pay attention and learn some more about how your church can communicate Jesus to your community.
This week, it's time for a philosophy question! Let us know in our new poll, what are your thoughts on the state of church marketing?