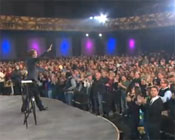 There's nothing quite like sweeps week investigative journalism from the local TV news for over-the-top drama, tenuous facts and hit job reporting–especially when the focus of those reports is your church. Doh!
That happened to Ed Young and Fellowship Church last week. "Prominent Grapevine pastor linked to luxury," read the headline, and the story was packed with melodrama and even the disguised voice of an anonymous source! The accusations include a secret church jet, a 10,000-square-foot "parsonage" and a $1 million salary.
Ed Young's response? Initially he ignored the story and insisted he has no secrets. Then at Fellowship he addressed specifics from the platform (jet is leased, home is 7,000 square feet [take a tour!], salary isn't close to $1 million, etc.) and two board of directors shared their confidence in Ed, as well as the level of accountability and integrity the church leadership has.
We'd send out our own investigative team of reporters, but we've all got better things to do. The real story here is what your church can learn from this mess. So we asked two Center for Church Communication board members, Kent Shaffer and Kem Meyer, to offer their perspective.
Before we get to their advice, the point here isn't to pick on Ed Young and Fellowship from afar with no context or experience. As Kem shared when I asked for her input, "My heart here isn't to use Ed and Fellowship as an example, but to take the opportunity to use this as a case study for me to ponder and learn from." If your church were attacked in the local media, how would you respond?

Kem Meyer:
When faced with criticism and accusations, it's a fine response line between too little (e.g., ignore it, act like it's not there) and too much (e.g., hijack the home page, defensively counterpoint every single point). Every circumstance needs to be looked at individually, no two situations are exactly the same. There are a lot of variables at play; proximity, topic, source, etc. And each of these variables needs to be considered and weighed appropriately. But regardless of how any of that shakes out, here are a couple of bullets that apply to every situation:

Full disclosure is always the best policy.
When there is nothing to hide, a direct answer to a direct question is the way to go. The goal isn't to get agreement on the answer, but to answer the question unapologetically. It reinforces the message "there is no cover-up here. It is what it is." In this case, it would be great for someone to stand up and say "Yes, we own a plane, and this is why we own the plane, and this is how we pay for it, yada yada…" Without information—people just make up their own truth. And then they start to believe it.

It's important to listen to the chatter.
If there were a report about my senior pastor, I would make sure we watched the report—in full—as a senior management team. It's responsible to listen to what people are saying in public spaces about your church and leaders. It's not a self-centered, off-mission indulgence, but a window to the full picture. What we learn when we listen—good and bad—is the only way to discover the full picture about public perception (which is their reality). Sometimes we discover that the picture we're drawing isn't telling the story we think it is and we get a chance to course correct. We still are in control of which audiences we respond to and which to absorb, but without looking through that window—we risk making decisions on incomplete or inaccurate information about ourselves.
Kent Shaffer:
In sports there is an expression, "you have to be good enough to beat the referee." You have to be above reproach and go the extra mile to avoid the appearance of foul play. Both in sports and the limelight, people's perceptions often trump the reality of a star's actions and motives.

People are funny when it comes to religion and money… sadly, because of religion's long history of financial abuse. Depending on your culture, theology and lifestyle, lavishness in the church may be an abomination or a way to show respect to God and one's pastor.

I recommend that churches, particularly influential ones, strive to be above reproach. Avoid letting your financial behavior become a stumbling block that turns some people off to Christ. Join the Evangelical Council for Financial Accountability. Have personal accountability partners. Give generously and then give some more.

If you church does come under fire for perceived financial irresponsibility, address it immediately, honestly and humbly. Seek council, and if you did do wrong, publicly apologize and commit to correct the wrongs (much like Toyota is doing with their recalls). Don't ignore the media or you will likely appear guilty even though that may be far, far from the truth. Old school public relations would ignore bad publicity or just shout louder, but in today's wired world where almost anyone can have a platform (i.e., Twitter, blogs, Facebook, etc.), the best solution is to authentically engage your accusers through meaningful conversations online and offline.

Public relations that engages people doesn't make the problem disappear or get everyone to think just like you. But it is real, honest and undeniable, and most importantly, it causes people to respect you (even if they hate you). It is not easy. And there is no perfect formula to follow. But to some degree you should be putting forth effort for a few weeks via multiple channels to share the truth from your side of the story.