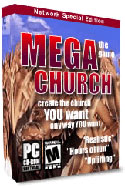 Imagine if you could create the church you wanted, any way you wanted.

Put together a worship service exactly the way YOU want: hymns, no hymns, drums, no drums. Are you from Wisconsin? Start Polka Mass! Start a building campaign, ask for donations. Be the next Joel Osteen!
Yes, it is just a parody (relax!), but it's so good.