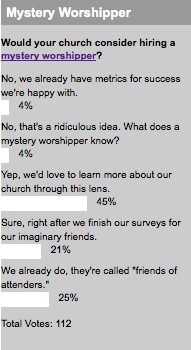 We've covered mystery worshippers here before. Twice. Some people loved it, others hated it. So we wanted to get your opinion on the idea of asking a stranger how to run your church.
45% of you love this idea. You think it's incredibly helpful to get an objective outsider's perspective on your services. Personally, I'm a huge fan of this kind of breath of fresh air. You don't have to take every suggestion they make, but you should at least be collecting objective data to include in conversations about what your church is doing.
46% of you went with the snarky options. About half of those want to finish surveying their imaginary friends first, and the other half already have a metric–attenders invite friends, and those friends give feedback. I think these answers translates to, "Mystery worshippers are a dumb idea."
The final 8% of you say no, but for different reasons. Half just think it's a ridiculous idea and don't want some shadow person telling them what to do. Another half already have some good ways to measure their success. Maybe those are surveys or town hall meetings, who knows, but feel free to let us know in the comments.
This week, we're asking how is your church responding to the current financial crisis? Let us know in the right sidebar of the home page!