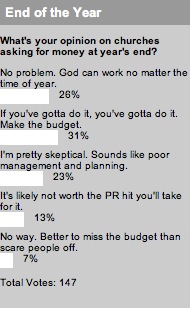 We covered Saddleback's request for money at the end of 2009 recently, but we wanted to know how their request made you feel. What do you think of churches doing this at the end of the year? Here is what you had to say:
The biggest chunk of you resigned yourself to, "You've gotta do what you've gotta do." That's 31% of you who think you should throw caution to the wind and do what it takes to make the budget.
Next up, a similar 26% of you who are all for it. You think God works at the beginning of the year, the end of the year and everywhere in between. And you're excited about him working through an end-of-the-year offering.
Just a shade less of our respondents, 23%, were feeling just a tinge skeptical. You'd like to know some of the backstory where these missing dollars fall out of the budget during the year before you pass judgment.
Only 20% of you blatantly disapprove. Of those, 13% of you think it's probably not worth the public relations hit. And another 7% of you think the same thing, but in stronger words. Unfortunately, a few bad apples have given the church a reputation for being a get-rich-quick scheme, and you want to avoid this association at all times.
This week, like much of the country, we turn our focus to Haiti: How do you feel about the way local churches have responded to the crisis in Haiti?