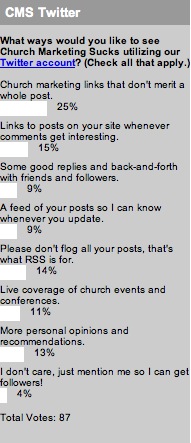 I'm sure most of you have noticed, but in case you haven't: Church Marketing Sucks recently joined the Twitter party. Since then, we've made tons of new friends, shared some great content and even got a comma in our follower count. But we really want to do this whole Twitter thing right, so we wanted to know how you'd like us to use the service.
Far and away your biggest request is for short church marketing links that don't merit a whole post. That's a whole 25% of you.
And a big request is just for a more personal side to our crew. Back-and-forths, at replies, opinions and recommendations are at the top of your list for Church Marketing Sucks on Twitter. And heck, I guess live coverage of events could fall into this category, which 11% of you are hoping we provide.
But do you want to be linked to actual Church Marketing Sucks stories? Well, 15% of you want links when comments get interesting and 9% of you want a full feed of entries. But 14% of you are begging us not to flog you with every single entry. So we'll try and strike up the right balance there. Feel free to keep giving us feedback.
And lastly, 4% of you just want mentions so you can get followers. That's not to mention those who just want mentions for their product or their service. But blog rules apply: Feel free to let us know about what you have to offer, and we'll plug it if we see the value for our community. No link exchanges, cut-and-dry retweet swaps or vanity mentions.
We're excited about the value this can bring to the Church Marketing Sucks community!
This week, our poll question is personal for you: How many people have you invited to your church in the last 12 months?