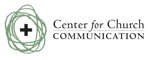 This is a follow up to my post earlier this week about the purpose of the Center for Church Communication (CFCC). Communicating the values and purpose of CFCC are in light of what I wrote last week about purpose, values, vision and mission.
Values should guide everything you do. They are the glue that hold everything together. And like purpose, they should never change.
Center for Church Communication Values
These are the values for the community that is the Center for Church Communication:
We communicate clearly.
We seek to build friends for life, not friends for leverage.
We pursue and pioneer the impossible.
We cultivate opportunities and pull weeds immediately.
We never stop learning.
We are generous in our praise for others.
We humbly express our unique personality.
We disagree well.
We collaborate with integrity and transparency.
We don't steal.
We own mistakes and immediately resolve problems.
We have a life outside of the CFCC community.