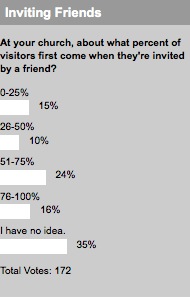 File this poll under, "We're curious." It's always a question floating around about how much marketing matters, where you should focus your marketing and whether it's worth it. So we decided to hit the streets and find out, in an incredibly unscientific manner, how many church guests come from personal referrals.
Not surprisingly, 35% of you have no idea what percent of visitors come at the invitation of a friend. Most of us don't have access to church stats and survey responses, so this was anticipated.
And now for the confusion: About 40% of you say at least 50% of visitors come at the request of a friend. Our Church Marketing Sucks official statistician has yet to be hired, but I can tell you this: most of you say most of your guests come because of a personal invitation.
A quarter of you, however, say less than half of your visitors come at the request of a friend. Maybe you are the marketing elite. Your guests come because of your totally awesome marketing campaigns or because you have a really unique and inviting church.
Whether you're getting people in the doors with or without the invitations of friends, we're big fans of more butts in pews (but even bigger fans of seeing Christ in more hearts). So keep on doing what you're doing to get visitors in the door. This week, our question is simple: Does your church still advertise in the local phone book?