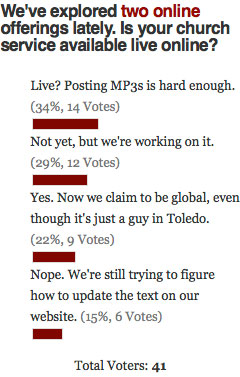 We recently explored two different options for online churches, Media Social and Church Online, and wanted to know if your church is offering services online.
So far the majority aren't. 34% are having enough trouble getting MP3s of the sermon up and another 15% are focused on their website's text. Another 29% aren't doing online church yet, but they're at least working on it.
That leaves 22% that are trailblazing with online church. That's nearly a quarter of churches (in our completely unscientific poll with a ridiculously small sample size) that are reaching out in an entirely new way.
That's not an overwhelming number, but it's a chunk. And it's likely growing.