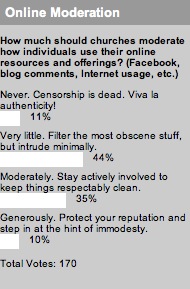 Online moderation has always been a hot-button issue, especially for churches. Opinions on what role institutional churches have in accountability, oversight and moderation cover the whole gamut of options. But we wanted to know, among our noble and intelligent reader, which opinion reigns supreme.
The biggest chunk of you, 44%, want very little filtration. Filter it if it's completely obscene, but other than that, let it slide. It won't be worth your effort. While 11% of you even take it a step further and go completely laissez-faire. People should be able to look at what they want, when they want and act as they wish on your watch.
35% of you prefer a slightly more active approach to make sure things stay clean. You like to keep an active role in keeping the focus in the right place and avoiding sin. And finally, 10% of you like the idea of generous moderation. After all, it's your online reputation alongside people's souls, and you don't want to toe the line on either one of those issues.
This week, everyone can play. We've got a pretty basic question for you: Where do you see church marketing sucking the most? Log your vote in the site's sidebar.