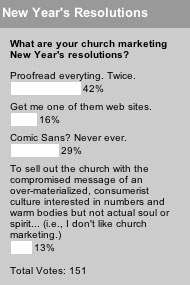 Last week we asked what your church marketing New Year's resolutions were. A strong 42% committed to proofread everything, following by 29% who are resolving to break their addiction to Comic Sans. It's a hard habit to break, but we're here for you.
OK, so it's not exactly our most scientific or useful poll, but we need to have some fun now and then.
This week we're asking whether or not a church should link to a pastor's blog.