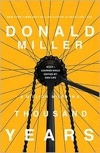 I think Donald Miller has finally written a book to compete with the attention from his last hit, Blue Like Jazz. I realize he has written other books since, but none of them seemed to connect as well as Jazz did.
Miller's latest, A Million Miles in a Thousand Years: What I Learned While Editing My Life, is quite a read. It's a first person narrative about a guy who is offered a movie deal and, in the process of trying to write a script, realizes his story is boring. Donald Miller's life had been caught up in writing other books and stories while the story of his own life had become as exciting as a movie about a guy who buys a car. But, says Miller, "Nobody cries at the end of a movie about a guy who wants a Volvo."
A Million Miles reflects the same great humor Miller had in Jazz, and yet is packed with more vulnerable emotion than I was prepared for. The stories Miller tells are mostly his own, as he attempts to understand the components for what makes a good life story. In the process, I found myself wrestling with the same issues. What makes a good story? What stories do people want to be a part of? What stories do we ignore? What stories are worth living?
"If you aren't telling a good story, nobody thinks you died too soon; they just think you died."
As communicators of the greatest story ever told, we could do well to learn from Miller's Miles. By learning and applying the principals for what makes a good story, we can move closer to living a life worth telling.