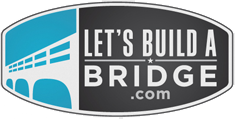 Church building campaigns can be hard for congregations to swallow. But how about building a $5 million bridge to ease parking congestion for a church? That's what North Point Community Church outside Atlanta, Ga., is doing with their Let's Build a Bridge campaign. When I first saw it I literally thought it was a joke. As the opening copy explained:
Are you tired of sitting in the parking lot for twenty minutes after church? Do you hesitate to invite friends to church because of the complexity of getting on and off our campus? Have you ever skipped the closing song to beat the crowds to lunch?
Therefore North Point needs a $5 million, three-lane bridge that spans 1,000 feet of floodplain and wetlands. It's no joke. As North Point pastor Andy Stanley explains, this has been nine years in the making.
Before anyone dumps all over North Point, complaining about $5 million going to a better use or pointing out the evils of megachurches or urging North Point to go multi-site (uh, they already are and also plant quite a few churches), it's worth letting Stanley explain it:
Is it worth it? It all depends. If our mission is to be a church that's perfectly designed for the people who already attend, then we don't need a bridge. But if we want to continue to be a church unchurched people love to attend, then yes, it's worth it. From my perspective, this is not a "nice to have" option. Honestly, I don't want to raise money for, or give money to, something that's not mission critical. I believe creating a second access point allows us to stay on mission. That is why we've been working on this for nine years.
Stanley makes his pitch by tying it to the church's foundational purpose: Being a church that unchurched people want to attend. And for North Point that means making it easy to attend, which means not dealing with a colossal traffic jam.
If that's your purpose, a $5 million bridge might make sense.
Unfortunately that explanation is buried in a PDF. There's also a lengthy video where Stanley humorously explains the rationale. That fundamental explanation should be front and center. This bridge isn't about parking, it's about making it easy for unchurched people to come to church and hear about Jesus.
The application for your church should be pretty clear, as Todd Rhoades explains:
Andy does what any good leader does in 'selling' an idea… he makes it critical to the mission. Because, Andy fully admits, if it doesn't help North Point fulfill their mission, then it is NOT worth it. If it DOES, then it's worth every single penny.

Are you trying to 'sell' something to your church? A new building? A new program? A new staff member? Have you tied it to your vision? If not, no wonder no one is getting excited about it. No wonder everyone says 'it's too expensive' or 'should we really do THAT'. If it's not, as Andy says, 'mission critical', then guess what… it's probably not worth it.
You can make up your own mind about the necessity of a $5 million bridge. But there are two lessons for your church from this example:
1) If your church is doing something important, tie it to your church's purpose. If it's worth doing it should naturally fit with your purpose. Otherwise why are you doing it?
2) Put that explanation front and center.