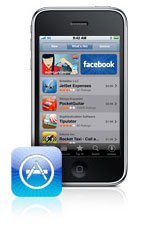 You might have heard the old news that Mars Hill in Seattle has developed an iPhone application. As has The Reaction, a movement in Denver. And a couple weeks ago, NOOMA provided me the opportunity to preview one of their iPhone applications–designed to give owners an opportunity to look on with a friend and go through discussion questions together.
A search through the App Store revealed a few more church applications, plenty of church finders and some Christian quote search engines. It seems that the church is getting on board with this whole "app" thing. Even theWashington Post covered the idea of religious applications.
This whole idea has got me feeling conflicted.
The skeptic in me has lots of questions:
Are all churches going to fall into the pressure of keeping up with the Joneses and have to direct resources towards this sort of technological development?
Should the church ever be taking a stand against increasing complexity in the world to advocate simplicity and focus in life? (Shane Hipps would say yes.)
Does developing this communicate that people need to be rich to be fully-involved in your church?
Does the world really need an iPhone application in order to connect with Jesus?
Will iPhone apps become like web sites where we chuckle at the churches who don't have one?
Pro-App
And maybe, for your church, you ask these questions and you find this is the best way to accomplish your mission. It's kind of exciting to think of people shaking their phones to share sermons or having a new point of access to churches. Or to imagine people visiting your church on their phone before they visit your church on the web before they visit your church in real life. (Wow, this world is getting complicated.)
Some of you are reaching out to a technology-driven, attention-span-deprived and hip audience. For a handful of churches out there, your message won't get across without the latest medium. And perhaps that is the single best point of entry for you to reach the unchurched and strengthen your church.
No-App
But, for other churches, your community doesn't need that technological point of entry. I would even venture to say that most churches don't need to cater to the technological early adopters. We hear people, even your average person, lauding the latest gizmos and technology, and we assume we need to connect through those avenues.
But often, as humans, our desire for gadgets and technological connectivity is little more than a proxy for a deeper desire to connect with humanity and purpose. And for most churches, you won't need an app for that. There are other ways for you to plug your community in to relationships and purpose. Ways that will be much more efficient and effective than the latest technology.
What's Your Strategy?
At its heart, this isn't a question about gizmos, gadgets and trinkets. This is a question about strategy and values. It's easy to skip the part where we say, "Hey, wait a minute. Does this fit in with our strategy? Does this fit in with our values? Or are we just doing this to do it?" Figuring out who you're trying to reach, what you're trying to say and how you're going about it aren't as fun as using the latest technology, but they can make a big difference in how effective your church is.
For some of you, the newest trend is an irreplaceable avenue to reach your audience. But for others, don't lose sight of this simple fact: Relevance is about much, much more than technology. It all depends on your strategy.