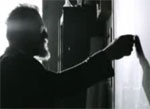 I keep coming across videos being passed around by Christians that are essentially video versions of debunked e-mail forwards. There's the more professional "Does God Exist?" video featuring a childhood Albert Einstein (oh wait, no, Snoped!) and the more homemade "This Will Keep Us All Thinking" video telling the story of a USC professor who disproves God every semester (and Snoped!). Both videos have upwards of 100,000 views, boatloads of comments (don't even go there unless you want to see lots of idiocy) and both are being used to argue for the inclusion of religion in schools. The more professional version is from Macedonia's Ministry of Education and Science and is arguing for religion in general, the other video is being used by an organization arguing to put Christ back in schools.
The irony is deep.
Let's make an argument to put religion back in schools that uses debunked stories that we claim are true. That doesn't say much for the type of educational improvement you want or the integrity of the religion you're promoting.

Many of the commenters respond to the debunking claims by insisting that the stories are still powerful. And that's true. A lie can be very powerful. A fictional story can have incredible impact. But pretending a false story is true? That's manipulation. I don't even want to get into the logical problems these videos skip over (I mean c'mon, what kind of zany atheist professor honestly thinks they can drop chalk and disprove God?) because the fact that Christians are trying to spread their message of God's love and truth with false stories and manipulation should be enough to make us cry.
We've been saying since the beginning that the church has the greatest story ever told. If we truly believe that, why would we need to make something up? There are plenty of true stories all over the place that are much more powerful than a debunked e-mail forward.
Tell a story that's true.
Here are a few folks who are doing just that. Sadly they don't get passed around like e-mail forwards, but I think they have a greater impact: