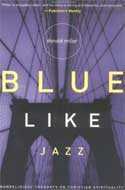 I read Donald Miller's Blue Like Jazz this week and a few things stuck out at me. It's not a marketing book, but it does have a perspective that can teach us a few things about marketing. The most important is how we as the church should be loving people.
Miller has two examples that really spell this out:
1) What's Not Working
Miller spends a chapter talking about what he doesn't like about church and why he loves his current church.
Here are the things I didn't like about the churches I went to. First: I felt like people were trying to sell me Jesus. I was a salesman for a while, and we were taught that you are supposed to point out all the benefits of a product when you are selling it. That is how I felt about some of the preachers I heard speak. They were always pointing out the benefits of Christian faith. That rubbed me wrong. It's not that there aren't benefits, there are, but did they have to talk about spirituality like it's a vacuum cleaner. I never felt like Jesus was a product. I wanted Him to be a person. Not only that, but they were always pointing out how great the specific church was. The bulletin read like a brochure for Amway. They were always saying how life-changing some conference was going to be. Life-changing? What does that mean? It sounded very suspicious. I wish they would just tell it to me straight rather than trying to sell me on everything. I felt like I got bombarded with commercials all week and then went to church and got even more. (page 131)
He goes on to talk about churches that tow a political party line and the ever-present war metaphor that lets us forget about loving people. The important thing here is that the Christian message is about love. If people aren't getting that in our churches, if they're distracted by our language or our politics, then something's not working.

2) What Is Working
Throughout the book Miller talks about attending a "heathen" college–a place so anti-Christian none of his Christian friends could understand why he'd want to be there. But while there Miller meets up with other Christians and they form an incredible community. Every year the college has a big drunken-orgy fest sort of weekend, and this small band of Christians decided to set up a confessional booth in the midst of the debauchery. But rather than letting the drunk college students confess, the Christians were the ones doing the confessing. They confessed their personal failures and the greater failures of Christianity over the years. Rather than judging those college students, they opened a door for discussion and dialogue.
Sometime around two or three in the morning, the night we took confessions, I was walking off campus with my monk robe under my arm, and when I got to the large oak tree on the outskirts of the front lawn, I turned and looked at the campus. It all looked so smart and old, and I could see the lights coming out of the Student Center, and I could hear the music thumping. There were kids making out on the lawn and chasing each other down the sidewalks. There was laughing and dancing and throwing up.

I felt very strong that Jesus was relevant in this place. I felt very strongly that if He was not relevant here then He was not relevant anywhere. I felt very peaceful in that place and very sober. I felt very connected to God because I had confessed so much to so many people and had gotten so much off my chest and I had been forgiven by the people I had wronged with my indifference and judgmentalism. (page 126)
I don't want to suggest every church should open a confession booth–this is an idea that only works in a certain time, in a certain place, with a certain approach. But the idea is that Miller and his friends really did something to make Christianity real to their fellow students. They didn't picket or yell at people from street corners. They engaged people in an honest and loving way.