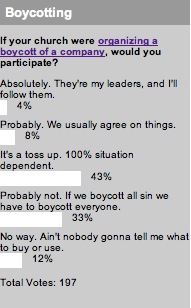 If you follow us on Twitter, you might have noticed a story we linked to about a church from Florida who was removing all of their Pepsi machines to protest Pepsi's support of the gay agenda. Churches tend to boycott tons of things–from Disney to the Da Vinci Code, so we got to thinking: Would you participate in a church boycott?
43% of you said that it's a toss-up, and it totally depends on what your church is boycotting and why. Perhaps you'd pass on boycotting the latest Pixar movie for using the word "hiney," but you'd be all about boycotting your local grocery store for being a hub for child trafficking.
33% of you went with probably not, while another 12% of you say, "No way!" You non-boycotters prefer to be known for what you choose to support, or you just think boycotts are silly and ineffective.
Only 12% of you would bet on the side of standing in your church's picket lines. Either you normally agree with your church or you choose to agree with them because God has put them over you. But either way, you think you'd probably participate in the boycott alongside your leadership.
This week, we're asking something a bit more personal: What ways would you like to see Church Marketing Sucks utilizing our Twitter account?