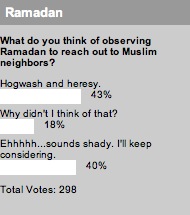 Recently, we discussed Brian McLaren's celebration of Ramadan as an interesting way of him communicating love to his Muslim neighbors. As is always the case, some commenters agreed and some begged to differ. But according to our most recent poll, it looks like our readers are pretty skeptical of something like this.
43% of you call shenanigans. You think this is silly at best and blasphemous at worst. Mark Driscoll agrees with you. In the USA Today Driscoll said McLaren's fast is "…insane at best … Sad, tragic, horrific, misguided, dangerous, wrong…" and that:
If Christians want to pray during Ramadan, they should pray not with Muslims but for Muslims–that Muslims would come to know Jesus. To pray with Muslims absolutely dishonors Jesus.
18% of you don't see it this way. You see it as a great expression of love and mutual interest, and you'd like to have thought of it yourself. The chairman of Islamic Studies at American University shares your sentiments:
There is a high level of anti-Americanism in the Muslim world … Now they are going to say this propaganda that America hates us is not true. Here is a pastor who wants to understand us, who does not want to convert us, and who is even prepared to walk with us, to fast with us. That is a big gesture.
And then, there are a whole lot of you riding the fence. You're still trying to decide how you feel about it, or more likely, you've suspended judgment indefinitely and moved on. That's all right, I'm sure there will be something new for you to have an opinion on in the future. For example, this week's poll:
We're looking to know: If your church were organizing a boycott of a company, would you participate? Log your vote in the Church Marketing Sucks sidebar.