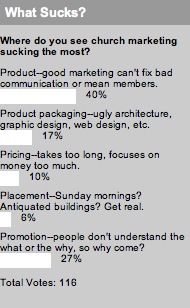 You don't have to read deep into our site to know that we think church marketing can suck. But you visit our site, so maybe you think it sucks, too. Well, what exactly is it that sucks about it? We asked you to find out.
40% of you think the problem is the product. Your churches might have gossipy members, a lame pastor or a bad theology, but whatever it is, good luck trying to fix it with marketing.
That's separate from the 17% of you who toss it up to product packaging–an ugly building, a crappy web site or terrible design. You think these things keep people from looking into churches the most.
Another 27% of you think the problem is promotion. Do churches really just expect everyone to talk about them enough to get the word out? They're going to have to try harder than that.
And finally, 10% of you think the pricing is off; it takes too long or they ask for too much money. While 6% of you tally it up to placement; it's simply silly to expect people to show up to your hidden church building on a Sunday morning.
This week, we want to know your opinion on Brian McLaren's recent actions: What do you think of observing Ramadan to reach out to Muslim neighbors?