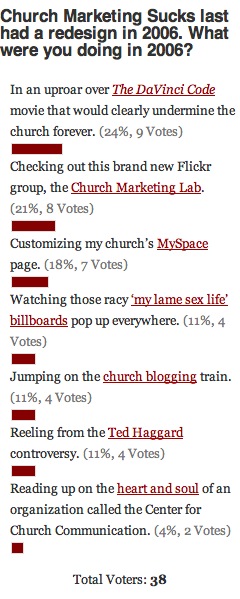 It's been four long years since Church Marketing Sucks had a design refresh. For plenty of you, you hadn't even heard of Church Marketing Sucks at that point. Others were already seasoned veterans, which means you were around before I was. Don't you feel old now? To give some perspective on the length of our look, we asked you: What were you doing in 2006?
24% of you were fuming and rioting over The Da Vinci Code and the certain doom it spelled for the church. Four years later, Dan Brown's best seller has changed its strategy, lying in wait to re-emerge and undermine the church at a later date and time.
A good handful, 21%, of you were checking out this new thing called the Church Marketing Lab. You were likely one of the originals among the 4,158 members who have joined since. And I'm sure there is plenty of overlap in those who were checking out the Church Marketing Lab and those who were tricking out your church's MySpace page. (My, how the times have changed.)
After that, 11% of you were watching in awe as the church-sex-billboard craze swept the nation. Looks like an equal number of you were already blogging about that and other church topics as well. And while we're talking about groups of 11%? There are those of you who were reeling over the Ted Haggard controversy.
And a lonely 4% were reading up on the heart and soul of a little organization called the Center for Church Communication. (An inspiring read, if we do say so ourselves.)
This week, like plenty of other folks, we're talking about Lost. So head to the brand new Church Marketing Sucks home page and vote in this week's poll: Why do you think the church is losing to Lost?