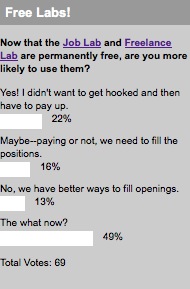 In last week's poll, we wanted to know what impact the freeness of the Job Lab and Freelance Lab would have on you. We were pretty excited to offer them for free, and the number of postings would show that you are too. But what do the polls say?
Well, they say that almost half of you don't know what the Job Lab and Freelance Labs are. Eeeeeek. Maybe you're new around these parts, or maybe you immediately skip posts that say "Job" or "Freelance." I'm not here to interpret the data, just to report it.
22% of you were pumped that they were free, which is what we like to hear. And another 16% of you weren't all that excited. You were willing to pay for the service because you need to fill the positions. If you feel convicted to pay anyways, then we have just the page for you.
And the last little bit of you are the 13% who have better ways to fill your job openings. C'mon, better? I doubt it. All the cool jobs are hanging out with us.
This week, let us know, how does your church adjust its marketing efforts for summer?