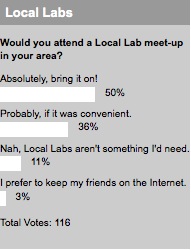 Local Labs have really been taking off. They've been organic and exponential so far, so we wanted to see how an average reader would feel about a Local Lab in their own city.
It looks like the majority of you are adventurous souls. You would love to check out a Local Lab and see what it's all about if there was one in your city. Well 23 cities nationwide (and one in Canada!) have Local Labs so far, so you might be in luck. That goes for the 36% of you who would go if it were convenient. It very well might be close to you.
That's 86% of people who would go if the conditions were right. Wow!
Another 11% of you don't really need Local Labs. Is that because you aren't a designer or church marketer? Or are you just that good? And a final 3% of you like to keep your friends on the Internet. Maybe that means we need a Second Life Local Lab on our very own Church Marketing Sucks Island?
And if you want a Local Lab, but there's not one in your area, just head over to the Church Marketing Lab, start a discussion thread titled "Local Lab [your city]" to hook up with some people in your area!
This week, it's a quiz time. The results of this quiz are out there on the Internet, so answer before you find them! And we'll post the study next week. So click through from your RSS reader and check our right sidebar to answer, what percent of churches would you guess have a web site?