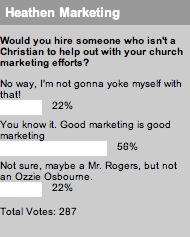 A few of you were very excited to see the poll results this week, and that's exactly what Tuesdays are about–hanging out at your computer, constantly refreshing Church Marketing Sucks for poll results. Well, we've talked about this before, and we even asked the same question two years ago, but have times changed?
Well, 56% of you are game for any good marketing, regardless of who's doing it. I still assume you'd be a bit discerning and not pay up to some marketer on the run from the law, leading a strange cult or leading a group of terrorists. But all in all, you wouldn't deny a marketer based on faith.
Another 22% of you would have to judge the marketer to make an assessment. If it was a good enough guy or girl that seemed to have values in line with your church and would reflect positively on you, then you'd give it a go. And the final 22% of you think that only a person of faith can market the faith.
How do those numbers stack up with two years ago? Well, then we saw a split of 56%, 18% and 21% (with an extra 5% comedy answer thrown in); so, that's pretty remarkably similar. This one might be stacking up as a timeless debate for churches as they look to hire people to help with their marketing.
This week, let us know, has your church ever done a church-wide survey?