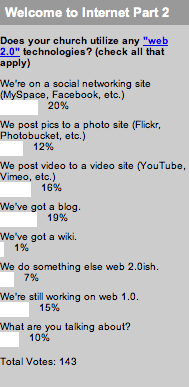 Last week we asked if your church utilizes any web 2.0 technologies. Here are the results:
The good news is that the most used technology is social networking. Networking socially is important, you know? The bad news is that the most used technology is only used by 20% of respondents. Right after social networking is blogging, which 19% of your churches use. It's really a great tool, you other 81% should check it out (The Blogging Church can help get you started).
Lately, we've talked a lot about online video. And 16% of you are already on that train; good for you! 12% of you post pictures to a photo site. What kind of innovative things do you use photo sharing for? You guys should link to those in the comments.
Rounding out the bottom, 7% of you do something else web 2.0ish and 1% of you have a wiki. Cool.
15% of you are still working on web 1.0, and 10% of you have no idea what web 2.0 is. Wikipedia can tell you, or you can check out our series on What Web 2.0 Means for the Church.
This week, we want to know how you feel about our new Job Lab and Freelance Lab. Make sure to vote!