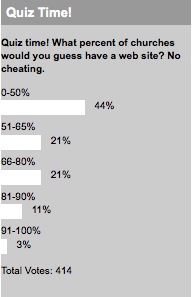 The most recent Barna poll asked about church technology usage, comparing the results across the years 2000, 2005 and 2007. We decided to quiz you and see how well you would be in tune with what other churches are doing. We asked you what percent of churches you thought currently have a web site.
44% of you guessed guessed that 0-50% of churches have a web site. Maybe that number is so high because 0-50 is the biggest range. Or maybe you just don't think many churches have sites.
The numbers go down from there. 21% of you thought that half to 65% of churches have sites. Another 21% of you thought 66%-80% have sites. That's the group I was in, as an optimist.
The really optimistic bunch of you thought either 81%-100% of churches have web sites. That'd be pretty sweet, but unfortunately, only in DreamLand.
Well, if you didn't cheat, the results are in…
62% of churches have a web site. That's up from 57% in 2005 and 34% in 2000. Check out Kent Shaffer's wrap-up for more complete results, including stats regarding e-mail blasts, social networking, projectors and more.
This week, we want to know, did your church do anything to celebrate Earth Day, either corporately or around the office?