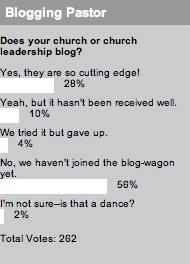 A little over two years ago, we asked you if your pastor blogs for your church. You weighed in and told us this: 21% did with success, 5% are trying without much success, 4% tried and gave up, 66% of you hadn't tried it out, and 5% had no idea what a blog was. That was then. This is now:
28% of you are blogging away, and folks are loving it. That's up 7%, so more people have tried, and more have had success. Always a great thing to hear.
10% of you have given it a shot, but it's not working out. I think the Church Marketing Lab discussion board could be a great place for this. Ask yourself three quick questions.
Is my audience aware that I have a blog or would they read a blog?
How is my site design?
Am I blogging material relevant to my audience?
Talk to the kind folks in the Church Marketing Lab, and I'm sure someone would love to help you with your site.
4% of you tried, but you gave up. Let us know your story in the comments, are you a pastor who tried, but it didn't work out Are you an intended reader who helped in the project not working out? I'd be interested to hear why these sorts of things fail.
56% of you still haven't joined the blog wagon. My quick response is, "Good grief! Go blog!" My better response is that maybe this is a great idea. Don't try to do something you don't need. Keep it simple, but consider blogging.
Only 2% of you still have no idea what a blog is. If you're in that 2%, consider being discipled in technology. I don't know that I have a link to help that.
So, you might be wondering whether you should comment on this post. There's a few types of people who should. Are you a SuperBlogger? Tell us why you think it works. Is your blog struggling? Ask for some advice. Are you a blogger feeling rejected? Let us know why you think it didn't work. Anyone else? Heck, just let us know what you think.
In the mean time, this week, we want to know, will your church do a Thanksgiving service? Head to the right and let us know.