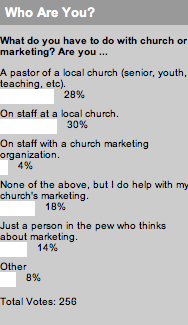 Last week, we asked the question, "Who are you?" 256 of you let us know. According to our calculations …
30% of you are on staff at a local church in a non-pastoral position. Congratulations on being in the majority! Another 28% of you are actually in the pastor's seat at your local church. That means nearly 60% of you are actually in the trenches, working hard to make sure the church doesn't suck. Hopefully. Keep trying new things and telling us what's working and what's not!
18% of you aren't actually on staff with a church or a marketing firm, but you do help with your church's marketing. What kind of roles are you in? Volunteer? Friend of a church staffer? That guy in the congregation who stands up and screams crazy ideas in the middle of a sermon? Another 14% of you aren't actively involved in church marketing, you just think about it from the pews. I'd be willing to bet you have some great ideas, don't be ashamed to speak up.
A slim 4% of you are actually on staff with a church marketing organization. Which means we're not reaching the professional church marketer, which is probably OK. It's the folks in the trenches who really need the help.
Lastly, 8% of you said other, mostly folks who fell under multiple categories or wanted to be more specific.
This week, we're asking how exactly you feel about all this crazy tree-hugging creation care we've been talking about?