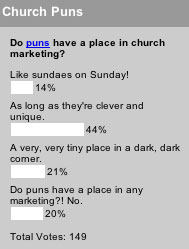 Last week's poll asked about the place of puns in church marketing, a topic raised a few months back.
The majority (58%) seem to like puns, with the caveat that they're clever and unique. But a sizable minority aren't too pun-happy, and a full 20% don't think puns should be used in any marketing at all. Ever.
So use puns at your own risk. And remember: Puns don't kill people, people kill people.
This week we survey how many churches have jumped on the blog-wagon, which is a fun question after our earlier post about a church not linking to its pastors' blogs. Early results (25 votes) show a resounding no to church blogging (84%).