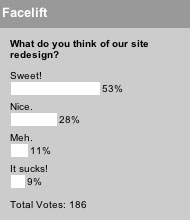 About ten days ago we celebrated our one-year anniversary and posted a significant redesign. Thanks to everyone who gave input on the design and wished us a happy birthday. We wouldn't be here without you.
With the redesign we launched a new poll that we hope to update weekly. When we post a new poll we'll try to share the results of the previous week's poll (just in case anyone else loves stats as much as I do, even though we all know online polls aren't very scientific).
Our first week's poll (which actually covered ten days) asked for your opinion on our redesign. 80% seemed happy with the new design, which makes us pretty happy.
Be sure to check out this week's poll, asking if it's acceptable to wear hats during a church service.