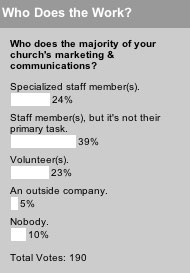 Last week we asked who does the marketing work in your church and in 63% of churches it's the staff. Not a big shock there, but what's interesting is that only 24% of churches have staff members specially trained to do communications work, and I suspect that number is high given the nature of our audience.
39% of churches have staff members doing the marketing that were hired to do something else. Thus we have associate pastors and youth pastors and church secretaries also trying to do the mammoth job of marketing. More power to 'em, but it's a wonder they can stay on top of it all.
23% of churches have volunteers doing the marketing, which raises the old 'volunteers should quit' can of worms. 5% of churches have an outside company doing the majority of the marketing (as if there were any doubt, this confirms for me that the church marketing business is not a road to riches).
Finally, 10% of churches have nobody doing the marketing and communications. I find that hard to believe. What church doesn't have a bulletin? Somebody had to put that thing together. More likely this is reflecting the churches that don't appear to promote anything they do, and that's not good either.
This week's poll asks if you would attend a church communications conference.