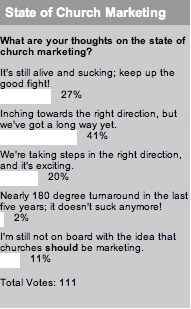 After five-and-a-half years of Church Marketing Sucks, we thought it was about time to check your feelings on the state of church marketing–where we've been and where we're going. Here's what you had to say:
41% of you think we're inching forward with a long road ahead. You think some churches are finally starting to get it, but there are plenty of folks out there who aren't on the boat yet, or they're just missing the point. And 20% of you are even a bit more optimistic. You see bigger steps in the right direction, and you're getting really excited about it.
Another 27% of you think not much headway has been made, but the fight must go on. Churches, for whatever reason, still aren't getting it, but we shouldn't give up. We ought to keep trying to help.
Next up are those 11% of you who aren't on board with the idea that churches should be marketing. Are you sitting on the fence on it? Do you just read Church Marketing Sucks to get your blood boiling?
And finally, a paltry 2% see a 180 degree turn around. Given the size of that number, it looks like we have a lot of work to do on the road ahead!
We'd love to hear you comment on some of the ways you've seen church marketing move forward and some encouraging signs you've noticed. It's always good to celebrate these victories together.
And this week, we're looking to hear: How has your church developed a social media strategy?