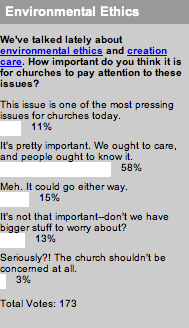 Last week, we asked what you thought about all this environmental ethics and going green. I'll have to admit, I'm pleasantly surprised with the results.
A true majority, 58% of you, think that it's pretty important, and we ought to show the world we care. How are you doing this? Recycled paper? Compact fluorescent light bulbs? Hybrid church vans? Communion with organic crackers?
15% of you think it could go either way. Less of you, 13%, think there are more important things to be worried about. You find yourselves amongst the American majority–the unconcerned. No judgment passed here, feel free to wait for some more evidence, but don't be ignorant or apathetic for the whole world to see.
11% of you think it's one of the most pressing issues for the church today. While 3% of you think the opposite, you say it's ludicrous. Just make sure you're not majoring on minors or ignoring a major.
All in all, you agree that there's no simple answer to this problem. Approach it prayerfully with a mind for the world around you and for the future.
This week, we want to know what church marketing moves that we've looked at recently you liked best. Let your voice be heard and let the world know what you liked!