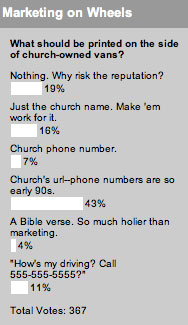 Last week we asked what should be printed on the side of church vans. It makes me wonder how many churches even have vans. My current church doesn't own any vehicles, though the church I grew up in had both a van and a bus (and probably still does. Interestingly, the church I grew up in is smaller than my current church, though I would guess the vehicle issue is more one of city vs. suburbs). But if your church does have a van (or bus or moped or means of conveyance upon which you can advertise), what's the best way to make use of that marketing space?
The church's web site received the most votes with 43%. Seems like the obvious, easy answer in today's digital age. Interestingly, putting nothing on the side of the van grabbed the second most votes with 19%. This is a curious response and makes me wonder if those who went with this response need to screen their drivers better. Or perhaps their riders. Rowdy youth groups in the back of a church van can do wonders for your church's reputation. Slapping a Bible verse on the side of the van received the least votes with 4%. Apparently not much of a holy-roller crowd.

After we posted the church van poll we received this picture from David at Jesus Metropolitan Community Church (you may remember them from the 'Would Jesus Discriminate' campaign). Too bad it came in late because I think it could have given the church web site a run for its money.
This week we ask what situation might necessitate the "firing" of a volunter. As much as we love those volunteers you never know when they're going to paint a vision of hell on the side of the church van.