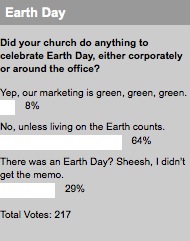 It's a hot topic right now, the relationship between Father God and Mother Earth. With everyone and their brother describing everything they do as "green," whether or not it's good for the earth, we wanted to know if your church was jumping on the chance to celebrate Earth Day.
The vast majority of you treated Earth Day the same way you treat Pi Day or National Weimaraner Appreciation Day–you don't. 29% of you didn't even realize Earth Day passed on April 22. At least now you can go ahead and pencil it in for next year! Another 64% of you knew about it, but you didn't care to give the planet a gift.
A small 6% of folks celebrated. Your marketing is seven shades of green, and you walk the lonely road of speaking up for our voiceless blue sphere. Did you go paper-free for a day? Turn the lights out? Walk barefoot? Let us know in the comments.
And for now, tell us, what do you think of CFCC's partnership with HOW?