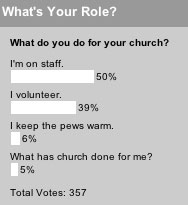 Last week we asked what you do for your church, and 89% are either on staff or volunteer for their church. I guess that high number shouldn't be surprising–why else would you read this blog?–but it is cool to see.
50% were on staff and 39% volunteer. Of the remaining 11%, 6% keep the pews warm and 5% aren't sure what the church has done for them.
This week we want to know what you do to help church marketing not suck.