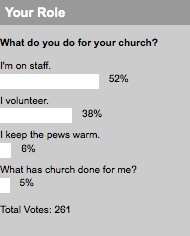 We're always curious to know exactly what you do as we plan and discuss our scope and content. We've asked this question three times before, and we wanted to see what this looked like in 2009. Here's what you had to say:
Over half of you are church staffers. After all, if you weren't, you couldn't justify reading Church Marketing Sucks on company time. We'd love to keep getting feedback on how we can serve your churches.
38% of you volunteer at your church, and therefore you volunteer your time to read Church Marketing Sucks. For that, we're incredibly grateful.
The final two groups of you are handfuls. You either keep the pews warm and think about church marketing just because it crosses your mind (or you cross paths with us via Google) or you don't know what church has done for you. We're glad to have these two groups stopping in as well. We'd love to hear more from you or have you join us via RSS.
This week, we want to know, Are you ready to put your pastor in a box?