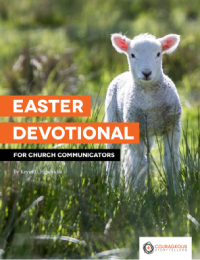 This devotional is for you, church communicators, because we don't want you to miss out. You're so busy making the Easter services happen, it's easy to forget about the story we're celebrating.
The gospel is for you too.
We were broken and lost, and Jesus met us where we were and showed us the way. He restored us to light and life.
May you find rest and peace and grace in Jesus this Easter.
Download the Devotional
Get this quick, five-day Easter devotional, and spend a little time in these final few days before Easter reflecting and praying.
More: